Life elsewhere
IMAGES FROM OTHER AUSTRALIAN ENVIRONMENTS
While the focus of this website is the biology of the forest where we live in South-East NSW, we decided to also include occasional images and stories from our travels to other parts of Australia. These trips often have a 'birding' focus and we enjoy discovering species unfamiliar to us. Yet the twitching game is really just an excuse to immerse ourselves in natural environments wherever we go. And there is always something to see. Nature is endlessly fascinating.
Scroll down to view a mix of images, presented in no particular order. All images were taken by us during our travels over the last few years.
Common Glider
Tramea loewii
This dragonfly species is widespread across Australia, New Guinea and the western Pacific, so it is possible we'll see them at home some time. Our first sighting, however, was about as far from home as we could get without actually leaving the mainland. Broome, in March, seemed to have as interesting an array of dragonflies as it did birds, and that is saying something!
Broome, Western Australia
(March, 2015)
Gouldian Finch (male)
Erythrura gouldiae
This iconic (and endangered) finch was certainly on our wish list during our northern birding adventure of 2015. We followed the advice of a guide book and went to check a creek bed in the town of Wyndham. It was the middle of the day, at least 40 degrees Celsius, and our expectations were not high. But there they were! About ten birds, including some juveniles, feeding on the seeding grasses and drinking from the drying creek pools. An amazing opportunity to watch Gouldians in the wild. Sadly, most people can only ever hope to see them in a cage.
Wyndham, East Kimberley, Western Australia
(April, 2015)
Gouldian Finch (male)
Erythrura gouldiae
The face colour of Gouldian Finches varies. Most have black faces, like the previous photo, but about 25% are red-faced. There are apparently rare yellow-faced birds, but we were not lucky enough to see one.
Wyndham, East Kimberley, Western Australia
(April, 2015)
Black and White Tiger
Danaus affinis
These butterflies are known to favour swamps, where their larval host plants grow among the waterside reeds. And it was certainly wet under foot where we came across huge numbers of adults, mating and competing for mates.
Mataranka, Northern Territory
(May, 2015)
Blue-winged Kookaburra & Darwin Stick-insect
We bore witness to the final moments of this huge phasmid (Eurycnema osiris). The Blue-winged Kookaburra (Dacelo leachii) is a distinctive bird of Australia's north, shyer and generally less numerous than its southern cousin, and with an even more extraordinary call.
Windjana Gorge, Western Australia
(April, 2015)
Wandering Pennant (male)
Macrodiplax cora
'Wandering' makes sense for this dragonfly, as the species is migratory and found throughout the tropic and subtropics. I haven't found any migration studies for this particular species, but it is known from various studies that some dragonfly species undertake long-distance migration, travelling many hundreds of kilometres.
Victoria River, Northern Territory
(May, 2015)
Australian Pied Oystercatchers
Haematopus longirostris
With its distinctive appearance, Pied Oystercatchers are well-known birds of coastal rivers and estuaries. It is therefore often a surprise for people to realise that the species is classified as 'Vulnerable' in NSW. In 2016 there were reported to be only 200 breeding pairs in NSW. The Clarence River in northern NSW, where this shot was taken, is a recognised stronghold for the species.
Yamba, New South Wales
(May, 2016)
Blistered Pyrgomorph
Monistria pustulifera (?)
This large grasshopper, with its amazingly pattern of coloured dots, is perfectly camouflaged against the stony desert ground. I'm reasonably confident of the species identification - the habitat we found it in certainly accords with that for M.pustulifera, also called the Inland Painted Grasshopper. The area was hot, dry and with a sparse scattering of desert bushes. An inspiration for dot painting, perhaps ...
Tennant Creek, Northern Territory
(May, 2015)
Wedge-tailed Eagle
Aquila audax
In central Australia, the Wedge-tailed Eagles make short work of road kill. And they guard it quite jealously, too!
Stuart Highway, south of Coober Pedy, South Australia
(March, 2015)
Painted Grasshawk
Neurothemis stigmatizans
Within a small patch of rainforest inside the town limits of Mission Beach, we discovered a wonderful, hidden lagoon. While most other tourists were lazing on the beach or leaping (parachuted & screaming) from small planes, we were crouched among the biting mosquitoes photographing dragonflies. I think Odonata might be my favourite insect order.
Mission Beach, Queensland
(June, 2016)
Painted Grasshawk (male)
Neurothemis stigmatizans
Another look at that extraordinary wing venation.
Mission Beach, Queensland
(June, 2016)
Ulysses Butterfly
Papilio ulysses
These large, brilliant butterflies are a stunning sight flitting among the coastal rainforests of northern Queensland. They are simply mesmerising. And they can be incredibly difficult to photograph! They rarely land for long, and when they do it is usually with closed wings. We spent hours one day trying to photograph Ulysses as several of the insects teased us in a national park, occasionally landing but only in the canopy. And then we stumbled on the secret. Simply wait to find them visiting showy garden flowers!
Daintree Village, northern Queensland
(June, 2016)
Ulysses Butterfly
Papilio ulysses
With wings closed, the Ulysses is much more cryptic, especially when hanging among the leaves of a native tree. Note that the 'swallowtails' and tips of the hindwing are dusted with pollen.
Daintree Village, northern Queensland
(June, 2016)
Olive-backed Sunbird (male)
Cinnyris jugularis
The other blue flash commonly seen in the QLD tropics, particularly near the coast. These tiny birds take insects as well as nectar and are quite often seen in parks and gardens.
Cairns, Queensland
(June, 2016)
Cairns Birdwing (female)
Ornithoptera euphorion
This huge, slowly-fluttering butterfly can easily be mistaken for a small bird as it flies by. As with the Ulysses, I took advantage of showy garden flowers to get a close look at these beautiful insects.
Daintree Village, northern Queensland
(June 2016)
Flame Robin (male)
Petroica phoenicea
These stunning robins breed in the high country and, reportedly, might be seen in our home region during the Winter months. We have, however, never seen them in our local forests. Flame Robins apparently tend to favour more open areas. So we were delighted to see dozens of the birds around the historic Mount Buffalo Chalet in the national park.
Mount Buffalo National Park, Victoria
(March, 2017)
Platypus
Ornithorhynchus anatinus
Platypus are shy and so any sighting is a special event. I considered myself very lucky when this one obliged by surfacing not far from the river bank where I stood, camera in hand. They tend to be most active around dawn and dusk, as was the case here.
Population estimations are difficult due to their elusive behaviour. They are not listed as a threatened species, but it is acknowledged by the IUCN that their status should be monitored.
Thredbo River, Kosciuszko National Park, NSW
(March, 2017)
Yellow-tufted Honeyeater
Lichenostomus melanops
This is a species that we see at home only rarely. We are therefore pleased to discover large flocks of the noisy, active birds when we visit the forests around Chiltern.
Chiltern - Mount Pilot National Park, Victoria
(March, 2017)
Peppermint Stick Insect
Megacrania batesii
We discovered these amazing insects through a tip-off from Daintree's legendary river birding guide 'Sauce'. On returning from one of his morning river cruises, and discovering we were interested in 'bugs' as well as birds, Sauce told us a little secret. "Drive north into the Daintree, stop by the beach, and check out the Screw Palms". We did - and "WOW!"
Megacrania batesii is only found in one particular Pandanus, Pandanus tectorius, and the plant only grows in a couple of locations in Australia. The plant and the insect are also found on some tropical Pacific Islands.
Daintree National Park, northern Queensland
(June, 2016)
Australian Logrunner (male)
Orthonyx temminckii
For us, this was the find from two days birding in the rainforests of the Queensland-NSW border. Their noisy, territorial calls dominate the forest in the early morning, but it can still be tricky to get a good look at these stocky little ground birds. They scratch about in the undergrowth and run, rather than fly, when disturbed.
Lamington National Park, southern Queensland
(May, 2016)
White-eared Honeyeater
Nesoptilotis leucotis
This species is widespread in the south and east, and we do see them at home occasionally, typically in winter. They are noted for the wide variety of habitats they can occupy, from mountains to deserts and mallee. Indeed, we came upon this one in true mallee - hot, dry and wonderfully wild country near the border between South Australia and Victoria.
Ngarkat National Park, South Australia
(March, 2015)
Spinifex Pigeon
Geophaps plumifera
One of the most fantastic pigeons! Not only is the 'hairstyle' profoundly comic, they also move in an almost mechanical manner. Our first ever sighting of this species were two birds in Ormiston Gorge, near Alice Springs. A week later we came upon another small group alongside the road at the end of the Tanami Track, a 1000km desert road that runs northwest from Alice Springs to Halls Creek.
Tanami Desert, Western Australia
(March, 2015)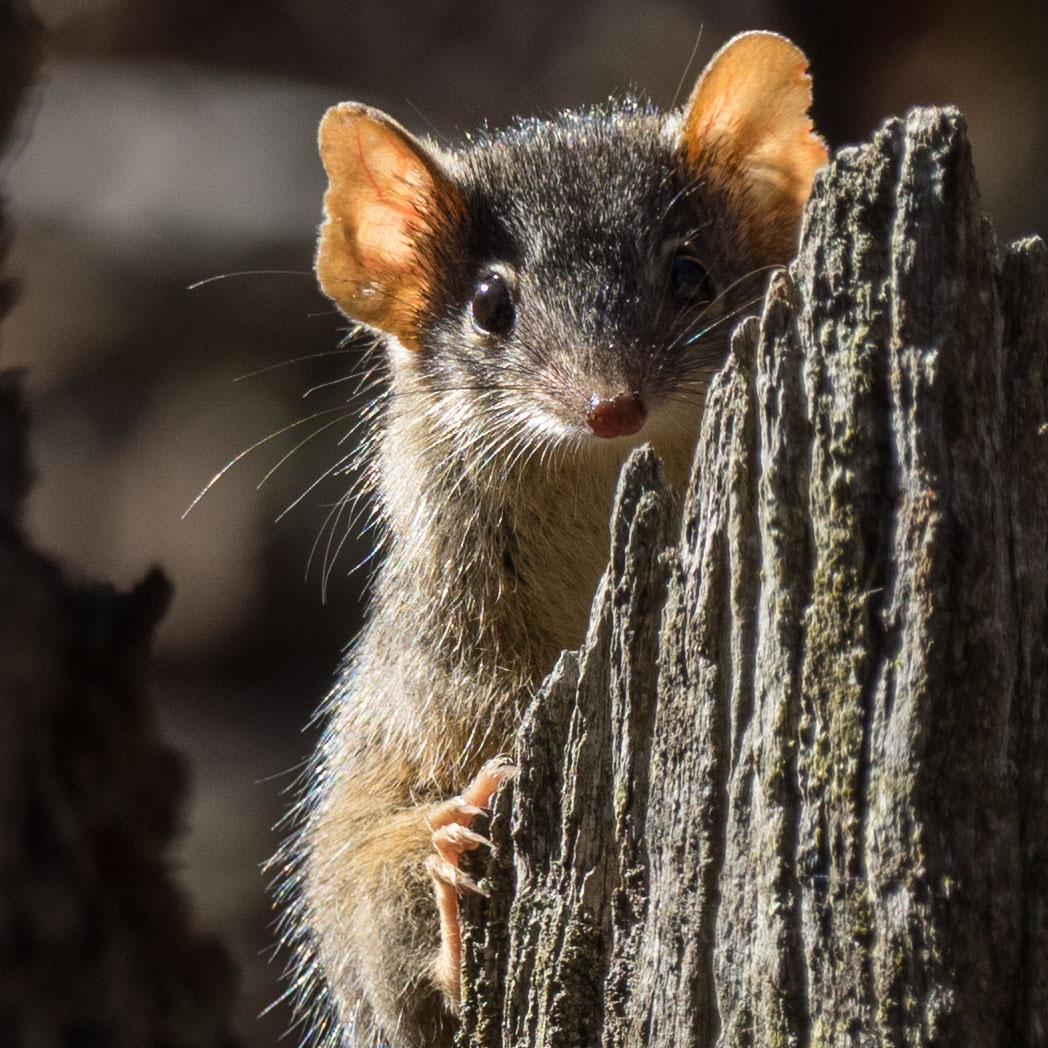 Yellow-footed Antechinus
Antechinus flavipes
A truly tiny carnivore, weighing in at less than 40g. We were doing some serious twitching in the national park near Chiltern (a site renown for its bird life), when we spotted this plucky little Yellow-footed Antechinus. Based on her behaviour and the time of year, she probably had a litter of young in the tree stump she was peering at us from.
Chiltern-Mount Pilot National Park, Victoria
(March, 2017)
Scarlet Percher
Diplacodes haematodes
Although Australia does have many endemic dragonfly and damselfly species, there are also many - such as this one - which have a wide distribution. This species is found across Australia and on many Pacific Islands. Only the male attains this brilliant scarlet colour. The female is yellow-green.
Broome, Western Australia
(March, 2015)
Rainbow Bee-eater
Merops ornatus
A summer breeding migrant in Australia, with most individuals overwintering in Indonesia and Papua New Guinea. The distinctive calls of Rainbow Bee-eaters were with us throughout our trip across Australia's north during March-May 2015.
Broome, Western Australia
(March, 2015)
Rainbow Bee-eaters
Merops ornatus
Here a male displays his insect catch to his mate. This species apparently forms a strong pair bond. The male can be distinguished by the longer tail streamers.
Broome, Western Australia
(March, 2015)
Barking Owl
Ninox connivens
Early one morning, not far from our campsite at Broome Bird Observatory, we looked up to discover this amazing sight. Most nights during our camping trip across northern Australia, we fell asleep to the endearing 'woof-woof' call of Barking Owls.
Broome, Western Australia
(March, 2015)
Migratory shorebirds
Black-tailed Godwits, Bar-tailed Godwits, Red-necked Stints, Curlew Sandpipers, Red Knots ... and probably others (shorebird ID can be challenging!)
The principal purpose of our trip to Broome in 2015 was to witness the gathering and departure of the migratory shorebirds. Roebuck Bay is a major staging area and the Broome Bird Observatory is an ideal base from which to witness this astonishing event. Tens of thousands of shorebirds of various species depart from the shores of Roebuck bay and fly to their breeding grounds in northern Asia/Siberia.
Roebuck Bay, Western Australia
(April, 2015)
Click this link for more from BBO about the shorebird migration
Ruddy Turnstones, Crested Terns & Lesser Crested Terns
It's not only the migratory shorebirds that collect around Broome's coast. We discovered this large mixed flock roosting on a rocky section of coast fronting the open ocean, north of Roebuck Bay.
Broome, Western Australia
(April, 2015)
Crested Terns & Lesser Crested Terns
Thalasseus bergii, Thalasseus bengalensis
The bright orange bills of the Lesser Crested Tern distinguishes this species from its larger cousin. The range of the Lesser Crested Tern does not extend into NSW. They nest along the Kimberley Coast, north from Broome, and also off the QLD coast.
Broome, Western Australia
(April, 2015)
Peaceful Dove
Geopelia placida
Widespread and particularly common in the tropics, the range of this attractive little dove also includes most of NSW - except for our home corner in the far south east.
Broome, Western Australia
(April, 2015)
Great Bowerbird
Chlamydera nuchalis
This is the largest of Australia's ten bowerbird species and is found across the north, from Broome to the central QLD coast. The Great Bowerbird shares two obvious characteristics with the related Spotted Bowerbird (Chlamydera maculata) of Queensland/northern NSW and the Western Bowerbird (Chlamydera nuchalis) of central and western Australia:
1) they decorate their bowers with mainly white and green objects, including shells and bones, and
2) the males have a patch of bright pink neck feathers that are normally hidden but can be raised in display (or after bathing, as was the case in this photo).
Broome, Western Australia
(April, 2015)
Spotted Bowerbird
Chlamydera maculata
This was our first sighting of a Spotted Bowerbird. He had a small, concealed bower not far from our campsite.
Macquarie Marshes, central northern NSW
(June, 2016)
Masked Finch
Peophila personata
We discovered a pair of these striking finches during an early morning walk at Parry Creek Farm. The 3-hectare camp ground is a recognised birding spot, located within Parry Lagoons Nature Reserve. Masked Finches feed on seed, although this bird was clearly transporting the seed head for display or nesting material.
This is the same genus as the Black-throated Finch (Peophila cincta), a species much in the news in 2017 due to threats posed by proposed coal mining activities in QLD.
Wyndham, east Kimberley, Western Australia
(April, 2015)
Sharp-tailed Sandpiper
Calidris acuminata
This is a summer migrant species, breeding in Siberia during the northern hemisphere summer. A common shorebird bird usually seen in flocks, we came upon this single individual feeding in the beautiful, protected, Marglu Billabong.
Marglu Billabong, Parry Lagoons Nature Reserve, east Kimberley, Western Australia
(April, 2015)
Graphic Flutterer
Rhyothemis graphiptera
These striking dragonflies were present in huge numbers at Marglu Billabong. We came across them again at various lakes and swamps across the Top End.
Marglu Billabong, Parry Lagoons Nature Reserve, east Kimberley, Western Australia
(April, 2015)
Bar-breasted Honeyeater
Ramsayornis fasciatus
A distinctive honeyeater only found in the tropics, near freshwater. And that's exactly where we found this bird: at 'The Grotto' in east Kimberley, feeding on flowers overhanging a freshwater pool.
near Wyndham, east Kimberley, Western Australia
(April, 2015)
Star Finches
Neochmia ruficauda
This was our first sighting of these stunning finches - and our only encounter with them to date! The species has a rather restricted range, but given how easy they are to recognise, and the fact that we were looking very hard, they do not seem common. We discovered a small group feeding on seeding grasses in a roadside irrigation ditch, along with large numbers of Double-barred Finches.
Kununurra, Western Australia
(April, 2015)
Shining Flycatcher (female)
Myiagra alecto
In a patch of rainforest at Howard Springs we were treated to a full concert by these delightful birds. Males and females both, with heads thrown back, breast feathers puffed up, were calling in high, musical notes.
Howard Springs (near Darwin), Northern Territory
(April, 2015)
Shining Flycatcher (male)
Myiagra alecto
The males are glossy black - a stark contrast to the three-colour female.
Howard Springs (near Darwin), Northern Territory
(April, 2015)
Partridge Pigeons
Geophaps smithii smithii
A Top End endemic, we were hoping to find these birds in their stronghold of Kakadu National Park. The guide books describe their preference for 'recently burnt areas' ... and that's exactly where we spotted them.
These two birds were 'ash-bathing' in a burnt patch not far from the road. They were too engrossed in the activity to be bothered by us stopping the car to take a few photos. Ironically, given their fondness for ash, the population is declining and has been declared 'Vulnerable' - due largely to the loss of ground cover through too-frequent burning, combined with predation by feral cats.
Kakadu National Park, Northern Territory
(April, 2015)
Red-tailed Black-Cockatoo (female)
Calyptorhynchus banksii
There are six recognised sub-species of Red-tailed Black-Cockatoo, each with a distinct appearance. This subspecies, C. banksii macrorhynchus, is largely confined to the tropical Northern Territory and the Kimberley. During a walk in Kakadu, we heard the characteristic cracking sounds of feeding cockatoos. A short distance away we came across a family of three.
Kakadu National Park, Northern Territory
(April, 2015)
Red-tailed Black-Cockatoo (male)
Calyptorhynchus banksii
The adult male has an amazing crest!
Kakadu National Park, Northern Territory
(April, 2015)
Black-necked Stork
Ephippiorhyncus asiaticus
This huge bird is Australia's only stork. The species extends beyond Australia, with populations in India and Papua New Guinea, and is now listed as 'Near Threatened' across its range. The Australian population is reported to be the largest. Its stronghold is in the wet tropics and subtropics, although the species was once quite common - and actually bred! - on the NSW coast south of Sydney. The bird is now a rare sighting in the south-east.
Preservation of wetlands with nearby large trees is essential for the species' survival. Kakadu National Park, therefore, provides an ideal habitat for this hunter of frogs, snakes and fish. They are rather shy birds, and we encountered this male while taking a sunset boat cruise on Yellow Water, Cooinda.
Kakadu National Park, Northern Territory
(April, 2015)
Varied Lorikeet
Psitteuteles versicolor
Varied Lorikeets are endemic to tropical Australia and are 'blossom nomads'. That is how we found them. The dominant 'eucalypt' in the region around Riversleigh is a bloodwood, a Corymbia (Corymbia terminalis, we think). At the time of our visit, most trees were covered with unopened buds but there were a small number in full bloom. And these trees were a magnet to all manner of nectar feeders, birds and insects alike.
south of Boodjamulla National Park, Queensland
(April, 2015)
Striated Heron
Butorides striata
There is wide colour variation in this species - pale grey, dark grey, and even a warm reddish brown. And the juveniles are different again, being very heavily streaked. Despite this potential for confusion in species identification, this is a recognisable bird in mangroves around the Australian coast. Its shape, stance and behaviour are unmistakable.
Perhaps surprisingly for a sedentary species, the Striated Heron has a huge distribution. It is native to Australia - and to Brazil, Kenya, Israel, Thailand, UAE, Bangladesh ... and dozens of other countries!
Daintree River, far north Queensland
(May, 2105)
Blue Tiger
Tirumala hamata
A day walk through the varied habitats of Cape Hillsborough National Park yielded a surprise. Descending from a ridge, we passed into a rainforest gully - and there were hundreds and hundreds of butterflies! They hung from the vegetation everywhere we looked, and flew about us in clouds as we passed through. Magical! Most were Blue Tigers, a migratory species known to form such congregations along the east coast.
Cape Hillsborough National Park, near Mackay, Queensland
(May, 2015)
Pacific Baza
Aviceda subcristata
Our first ever sighting of these distinctive hawks was quite an event. Walking along a ridge above the beach, among tall trees, we were treated to several Pacific Baza hunting in the canopy. And it was clearly successful hunting! They were snatching large mantids from among the leaves, then leisurely devouring each insect, bite-by-gruesome-bite.
Cape Hillsborough National Park, near Mackay, Queensland
(May, 2015)
Sooty Oystercatchers (male & female)
Haematopus fuliginosus
Unlike their beach-based cousins the Pied Oystercatchers (Haematopus longirostris), Sooty Oystercatchers feed and breed on rocky headlands and offshore islands. The species inhabits the entire coastline of Australia. The population as a whole is considered stable, but in New South Wales its conservation status has been declared 'Vulnerable'.
The bird behind, with the longer bill, is the female.
Montague Island, NSW
(October, 2015)
Major Mitchell's Cockatoo
Lophorchroa leadbeateri
Our first sighting of this uncommon, and beautiful, cockatoo species. We were just leaving the National Park, heading south through farmland, when we spotted a flock of 20+ birds sheltering from the wind among a small copse of roadside trees.
Murray-Sunset National Park, Victoria
(October, 2013)
Red-backed Fairy-wren (female & male)
Malurus melanocephalus
Early one morning, in the sand dune vegetation above a beach, we heard fairy wrens calling. I just had time to ready the camera when this pair popped up to look at as. A very lucky morning walk indeed! Particularly as this was our first sighting of this predominantly northern species. The male (on the right) is in full breeding plumage.
Yamba, New South Wales
(December, 2013)
Pheasant Coucal (adult male, breeding)
Centropus phasianinus
We heard the bird's repeated booming calls from quite a distance and were relieved that, by the time we climbed the hill toward the sound, he was still there. And in a tree, clearly visible! Pheasant Coucal are quite common in the Clarence Valley, living among the sugarcane, but they tend to be elusive birds.
Yamba, New South Wales
(December, 2013)
Beach Stone-curlew
Esacus magnirostris
Crabs are the stable food for this prehistoric-looking species. The birds are typically most active at night, spending the day sitting motionless and concealed among the mangroves. We were therefore very lucky when gloomy weather coincided with a very low tide - and we happened upon three Beach Stone-curlews feasting on Soldier Crabs.
The Beach Stone-curlew is found throughout Indonesia, PNG and northern Australia. However, the overall population is small and decreasing. The species has an international listing as 'Near Threatened'. On several occasions we have seen Beach Stone-curlew in northern New South Wales, and consider ourselves very fortunate. It is listed as 'Critically Endangered' in NSW - surveys in the year 2000 reported the state's population at just 13 birds!
Tin Can Bay, near Fraser Island, Queensland
(June, 2016)
Brown Falcon
Falco berigora
It is easy to become complacent about sightings of the Brown Falcon. A common species, they are found across Australia, often sitting on power poles or fence posts. Seen up close, however, they are quite a beautiful bird. They favour open habitats and have a broad diet. It is unsurprising, therefore, that the Brown Falcon has adapted so well to agricultural landscapes.
near Mackay, Queensland
(June, 2016)
Tropical Golden Orb-weaver (female)
Nephila pilipes
These long-legged spiders can be a bit intimidating, even for us - and we rather like spiders. The body of the female can be 50mm long and, including the leg span, the animal may be 200mm across! Not only are they huge, but they tend to be found in large numbers, their golden webs festooning the bush ... including across walking tracks!
Litchfield National Park, Northern Territory
(April, 2015)
Spectacled Monarch
Symposiachrus trivirgatus
Although quite a common bird in north Queensland, a Spectacled Monarch sighting always feels special to us. They are confident and curious birds, and so attractive - in a slightly comical way. Like so many rainforest species, however, they can be difficult to spot (and photograph!) among the dense vegetation.
Atherton Tablelands, far north Queensland
(June 2016)
Great-billed Heron
Ardea sumatrana
It was only after hours of searching the Daintree River with 'Sauce', a local boat operator and bird guide, that we finally came upon this heron. These large birds are shy, and are only found along forest-fringed tropical coasts and estuaries. So you need a boat. And some luck!
Daintree River, far north Queensland
(June, 2016)
Wompoo Fruit-Doves
Ptilinopus magnificus
Despite the fact that they are quite common in tropical rainforests, and even around the subtropics, we still get a thrill each time we spot these beautiful birds feeding in the treetops. These two were gorging on a fruiting palm alongside the Daintree River.
Daintree River, far north Queensland
(June, 2016)
Yellow Honeyeater
Stomioptera flava
A visit to Tyto Wetlands yielded even more sightings of woodland birds than waterbirds. This Yellow Honeyeater seemed to almost glow in the late afternoon sunlight. Yellow Honeyeaters are common in north Queensland but do not extend south beyond about Marlborough (north of Rockhampton).
Tyto Wetlands, near Ingham, north Queensland
(June, 2016)
Pacific Gull (adult & juvenile)
Larus pacificus
Fishers Point is the name given to a remote rocky point near the southernmost tip of Tasmania. It is part of the Southwest National Park, a wild and remarkable place.
We were camped on the shores of Recherche Bay and took a late afternoon walk along the shore to the Point. And the sight was extraordinary. Hundreds of seabirds were gathered - predominantly Pacific Gulls, Kelp Gulls and Crested Terns - all feasting on small fish. The birds would fly sorties out to where the leatherjacket were schooling, and then return to shore with their catch. Or, at least, they would try to. It seemed the Crested Terns were doing most of the fishing while the much larger gulls preferred to steal a meal.
Recherche Bay, southern Tasmania
(March, 2014)
Eastern Osprey (adult male)
Pandion cristatus
'Osprey' are found in many parts of the world. They are generally recognised to belong to two separate species: our 'Eastern Osprey' (Pandion cristatus) occurs in the Australasia and Pacific Islands region.
Yamba, New South Wales
(August, 2017)
Eastern Osprey
Pandion cristatus
These large raptors have a wingspan of around 180cm. They are unique among the eagles in having a 'reversible' toe. This adaptation allows the birds to firmly grip large and slippery fish!
While visiting family in Yamba, we were able to watch this beautiful bird and her mate hard at work preparing a brand new nest. It is likely that they'll use this same nest for many breeding seasons to come.
Yamba, New South Wales
(August, 2017)
See 'Nesting Osprey' in News & Stories for more about our August 2017 sightings of this pair.
Scaly-breasted Lorikeet
Trichoglossus chlorolepidotus
We have often sighted these birds on the north coast of NSW. This one was part of a mixed flock, which included Little Wattlebirds and other honeyeaters, feeding on Banksia blossom in the early morning light on the coast near Port Macquarie.
Bonny Hills, New South Wales
(August, 2017)